Veronica Pamoukaghlian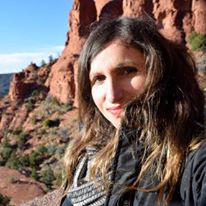 Born in Montevideo, Verónica studied Film, Translation, English and French Literature, and German language at the Uruguayan Film School, the Alliance Francaise, Cambridge University, and the Goethe Institut,
She holds a BA in English Literature from Cambridge UK, a Teaching Certificate from EXETER SCHOOL UK, a DALF certificate in French, a ZOP certificate in German, and an Arts and Culture Management Diploma from BankBoston Foundation.
Her first Film award was obtained with a screenplay in 1996, from the City of Montevideo. Since then she has been writing, directing and producing short films, music clips, commercials, and documentaries for Cinema and TV. She has also been involved in Music Management through her Film and Music Production Company NEWMOON FILMS & ARTS.
A successful travel blogger since 2010, Veronica has written blogs showcased on USA TODAY and THE CHICAGO SUN-TIMES. In 2011, film critic and writer Roger Ebert called Veronica "a voice that needs to be heard."
Since 2000 she has also developed a career as a freelance writer, journalist, and translator. Veronica has worked as an interpreter and translator for Amazon Publishing, the European Union, Montevideo Friendly, and the Partenariat European Union-Mercosur. She has written, edited, and translated a variety of literary works, including New York Times bestsellers.
Some of her past and current clients include Amazon, eBay, Elite Lawyer Management, Africa Insider, Variety magazine, KPMG, EL PAIS, Bikestation, Weitz & Luxenberg, the European Union, the Cognitive Therapy Institute of Ireland, the Public Health Department of Canada, and the MERCOSUR Government. Her literary works have been published by The Acentos Review, Archer Magazine (Australia), Naked Punch, Seal Press, the International Museum of Women, Poetry Magazine, the Southern Pacific Review, Sentinel Literary Quarterly, and Prism, among many other prestigious international publications.
Veronica was also a teacher for nearly a decade. She taught IB literature and Media Studies at St Catherine's School, St. Brendan's School, and the Anglo Institute. After that, she started mentoring several writers and filmmakers in Uruguay and Spain.
In 2007 she obtained her Master's in Screenwriting from the Foundation for Audiovisual Research, through an IBERMEDIA Fund Scholarship. Her films have been shown in Argentina, Cuba, Uruguay, Spain, Morocco, Italy, Mexico, Germany, Brazil, and the US. She has participated in over 40 Film Festivals, Production Meetings and Markets, in Europe, Latin America, and the US.
In 2007, she obtained her Diploma in Executive Production and Feature Film Project Development at the SAN ANTONIO DE LOS BAÑOS International Film and TV School in CUBA. The course was directed by Veronica ́s mentor Sandy Lieberson, Academy-award winning producer of Blade Runner and Thelma and Louise and former VP of Development at 20th Century Fox.
Her feature documentary RAÚL, a coproduction between Uruguay and Los Angeles won the Best Documentary Award at the 1st East Harlem International Film Festival in New York and an Award from the Argentinean Senate. It was screened on film and TV in Mexico, Italy, and Argentina. Named after its protagonist, RAÚL tells the story of a charismatic 75-year-old Uruguayan athlete, who travels to Finland, in order to try to become the Decathlon champion of the world.
Her co-production with Germany, entitled "MONSTRUO," received funding from the Uruguayan Film Institute and was awarded Best Short at the Uruguayan International Film Festival and Best Actor and Cinematography at FAM Film Festival in Florianopolis in 2013.
Veronica is the head of Uruguay-based NEKTAR FILMS & DESIGN. During the last few years, she has been known to divide her time between Seattle, Montevideo, and Athens, Greece. She was a marketing consultant for LILAC (Hank Isaac), a TV series shot on location in Seattle.
She has been in the jury of Dona I Cinema Film Festival (Valencia, Spain, 2011) and a member of the selection committee for FAM Panvision festival (Florianopolis, Brazil, 2014). In October 2014, Veronica was a guest lecturer on Uruguayan film at the University of Louisville, Kentucky. In February 2015, she was appointed as a Narrative Fiction and Introduction to Screenwriting Professor at Uruguay'́s Technical University (UTU).
Her current work includes writing journalistic pieces for Lento magazine, Africa in Fact, and The Big Smoke America, and producing corporate videos for Platform Strategy. In early 2018, she was appointed as Editorial Director for SUTTON HART PRESS (Washington).
An aspiring chef and keen hostess, Veronica periodically holds private dinners at her home in Barrio Sur, where renowned local artists and intellectuals discuss art, politics, philosophical ideas, and current affairs. Her latest events were a "Poets' Dinner" and another one for "Girls in Film."